Whats coming up in May? Deaf Community Day at the Seattle Aquarium! Get your free tickets!!
For tickets contact Nancy@adwas.org.
The tickets are only valid for Deaf Community Day on May 20, 2017.
The Seattle Aquarium will provide ASL interpreters at all aquarium talks starting at 10:30am until 4:00pm.
The last entry is at 5pm and the exhibits close at 6:00 PM.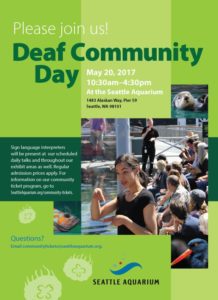 [Image description: Forest green and lime green post with pictures of seals, 2 interpreters, and people watching seals being displayed in a big aquarium. At the top of the post in white, green and black prints stats "Please join us! Deaf Community Day- May 20, 2017, 10:30am-4:30pm at the Seattle Aquarium, address: 1483 Alaskan Way, Pier 59 Seattle, WA 98101. On the left side of the post stats "Sign language interpreters will be present at our scheduled daily talks and throughout our exhibit areas as well. Regular admission prices apply. For information on our community ticket program, go to SeattleAquarium.org/community-tickets. At the bottom of the post stats "Questions? Email communitytickets@seattleaquarium.org with their logo and clip arts of jelly fishes.]