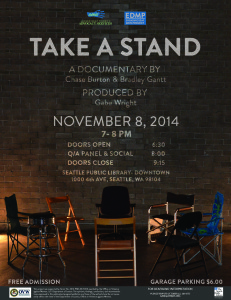 NOVEMBER 8, 2014
Seattle Public Library- Downtown
DOORS OPEN        6:30 PM
FILM STARTS        7 PM
Q/A PANEL & SOCIAL     8 PM
DOORS CLOSE      9 PM
Press Release
Join the abused Deaf women's advocacy services (ADWAS) and the Engaging Deaf Men Project (EDMP) in their groundbreaking documentary film premiere titled, "Take A Stand". The documentary follows Deaf men in the community on their journey towards the vision of EDMP which is "to engage Deaf and DeafBlind men as aspiring allies in Taking A Stand to end violence against women through the fostering and creating of opportunities for men to have safe and efficient dialogue(s) with one another as a community of men that creates a positive ripple effect to other men in the Deaf community.
In November, 2013, ADWAS launched the first Deaf men weekend retreat for EDMP in which 13 leaders in the community were recruited to attend and take the first steps to discuss their roles in supporting the women's movement to end violence on all fronts. Men have a positive role to play in the primary prevention efforts in which these efforts not only include discussing healthy relationships but what makes a healthy community free of violence. Creating a space for men to have dialogue allows further discussions on creating an anti-violence community that includes discussing gender based violence, racist violence, and gay bashing as an effort to stop the violence before it starts.
From the first retreat led to other engagement opportunities with the men as well as another retreat that expanded to 28 men in which a series of public awareness video projects were created culminating in the film documentary, "Take A Stand".
The evening program will feature the documentary film premiere and audience participation in discussions about the film and how the community can also Take A Stand against violence.
The documentary is in English subtitles and also the discussion after the viewing will be in American Sign Language and voice interpreted.
For DeafBlind participants requesting accommodation, please contact gabe@adwas.org by Oct 22 to RSVP.