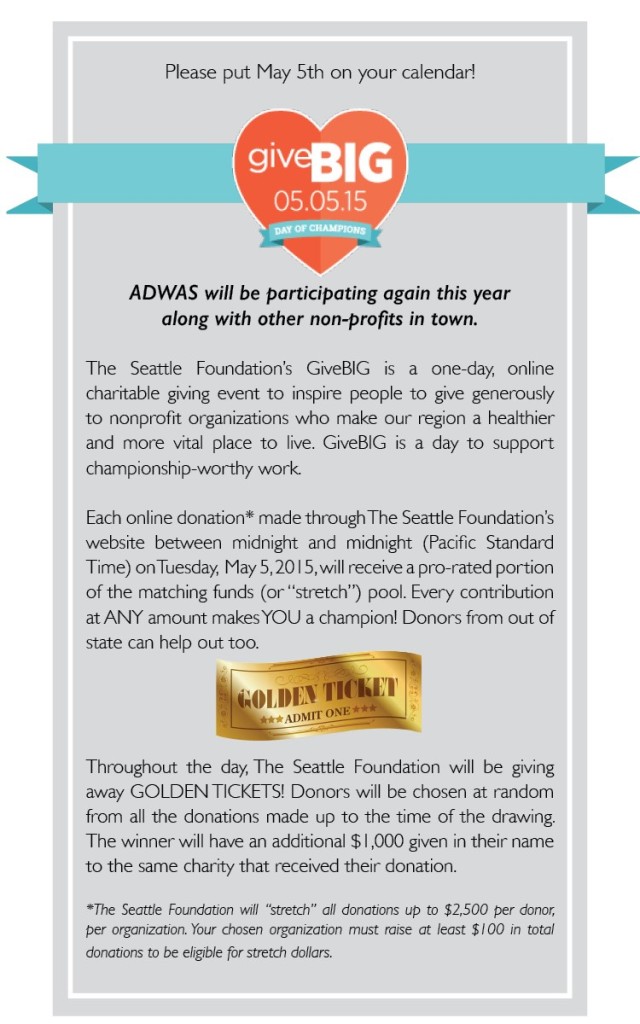 Please put May 5th on your calendar!
[visual description: gray background with a white border with an orange heart with white text: "giveBIG 05.05.15″ and a blue ribbon with white text:"DAY OF CHAMPIONS" atop a horizontal blue ribbon]
ADWAS will be participating again this year along with other non-profits in town.
The Seattle Foundation's GiveBIG is a one-day, online charitable giving event to inspire people to give generously to nonprofit organizations who make our region a healthier and more vital place to live. GiveBIG is a day to support championship-worthy work.
Each online donation* made through The Seattle Foundation's website between midnight and midnight (Pacific Standard Time) on Tuesday, May 5, 2015, will receive a pro-rated portion of the matching funds (or "stretch") pool. Every contribution at ANY amount makes YOU a champion! Donors from out of state can help out too.
[Visual description: a center-aligned image of a golden ticket]
Throughout the day, The Seattle Foundation will be giving away GOLDEN TICKETS! Donors will be chosen at random from all the donations made up to the time of the drawing. The winner will have an additional $1,000 given in their name to the same charity that received their donation.
*The Seattle Foundation will "stretch" all donations up to $2,500 per donor, per organization. Your chosen organization must raise at least $100 in total donations to be eligible for stretch dollars.