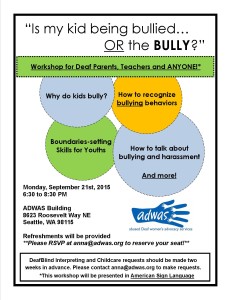 It's the perfect topic to kick off the school year for adults who have or work with Deaf children or for Deaf parents of hearing children. ADWAS strives to end violence in all of our Deaf communities of all ages. This workshop will teach adults skills in recognizing bullying and harassment behaviors in children and teenagers, how to intervene and have a positive conversation about bullying & harassment with youths without any shaming or blaming, and will answer the big question we all have: WHY do kids bully?
Monday, September 21st 2015
6:30 PM to 8:30 PM
ADWAS building
8623 Roosevelt Way NE
Seattle 98115
Refreshments will be provided
PLEASE RSVP at anna@adwas.org to reserve a seat and to put in any requests if needed
DeafBlind interpreting and Childcare will be provided on request – please make your requests as far in advance as possible.