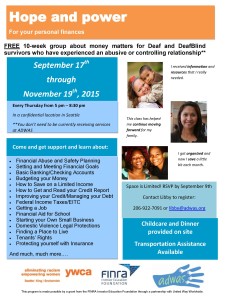 Hope and Power Financial Education
The YWCA and ADWAS are very excited to announce 10-week of financial education classes, Hope and Power for Your Personal Finances.  We will be offering the FREE financial classes for Deaf and DeafBlind victims/survivors of domestic violence in a confidential location in Seattle.  The series date is from September 17th to November 19th on Thursdays from 5 pm to 8:30 pm. 
Childcare and dinner will be provided on site and transportation assistance is available (gas cards or bus tickets). 
You don't need to be currently receiving services at ADWAS
During the ten weeks, will get support while learning more about:
Financial Abuse and Safety Planning
Setting and Meeting Financial Goals
Basic Banking / Checking Accounts
Budgeting Your Money
How to Save on a Limited Income
How to Get and Read your Credit Report
Improving Your Credit and Dealing with Debt
Federal Income Taxes/EITC
Financial Aid for School
Starting your own Small Business
Getting a Job
Domestic Violence Legal Protections
Finding a Place to Live
Tenants' Rights
Protecting yourself with Insurance
And much, much more….
To register, survivors can contact Libby Stanley at 206-922-7091 or libby@adwas.org