During the year, ADWAS hosts a variety of events, workshops, and classes for the Deaf community. Keep yourself updated by checking out our calendar and Facebook page. Sign up to receive ADWAS' e-newsletter to keep up to date.
Oct
25
Tue
Conference: "Taking Action, Creating Change"

@ Sheraton Hotel, Silver Spring, MD
Justice for Deaf Victims National Coalition (JDVNC) and Deaf DAWN are hosting a conference,  "Taking Action, Creating Change" at the Sheraton Hotel in Silver Spring, Maryland near our nation's capital of Washington, DC on October 25-28, 2016.   We will be celebrating the evolution of Deaf anti-violence movement spanning thirty years of advocacy and service! In response to the changing needs of the field, JDVNC will be unveiling a new organizational name, logo, mission, vision, and values at the conference. We hope you can join us!
There is 45 more days to sign up for the early bird registration which is $290. Please grab this deal, and sign up as soon as possible. Prices will increase to $340 starting February 1st.  Register here.
In addition, we are gathering call for proposals and presentations. If you or your agency is interested in presenting at the conference, fill out the call for proposal application here. The application is due on February 12, 2016!  Some of the workshop topics we are looking to include are:
advocacy
prevention/education
intervention
engaging aspiring allies
systems advocacy
board development
capacity building/sustainability
legislation/legislative advocacy
anti-oppression/ intersectionality
community accountability
We welcome Deaf advocates, counselors, educators, interpreters, and hearing allies working with Deaf survivors to be a part of a new wave of trauma informed advocacy and violence reduction efforts.  Check out www.deafjusticeconference.com  for conference updates, and follow us on:
Facebook: Justice for Deaf Victims National Coalition
Twitter: twitter.com/jdvnc
Instagram: deafjustice123
If you have any questions, concerns or need additional information, email us at: deafjusticeconf@gmail.com.
Register today to be a part of a new era for the next 30 years!
Nov
5
Sat
2016 ADWAS Hope & Justice Auction Gala

@ Bell Harbor International Conference Center
Nov 5 @ 6:00 pm – 10:00 pm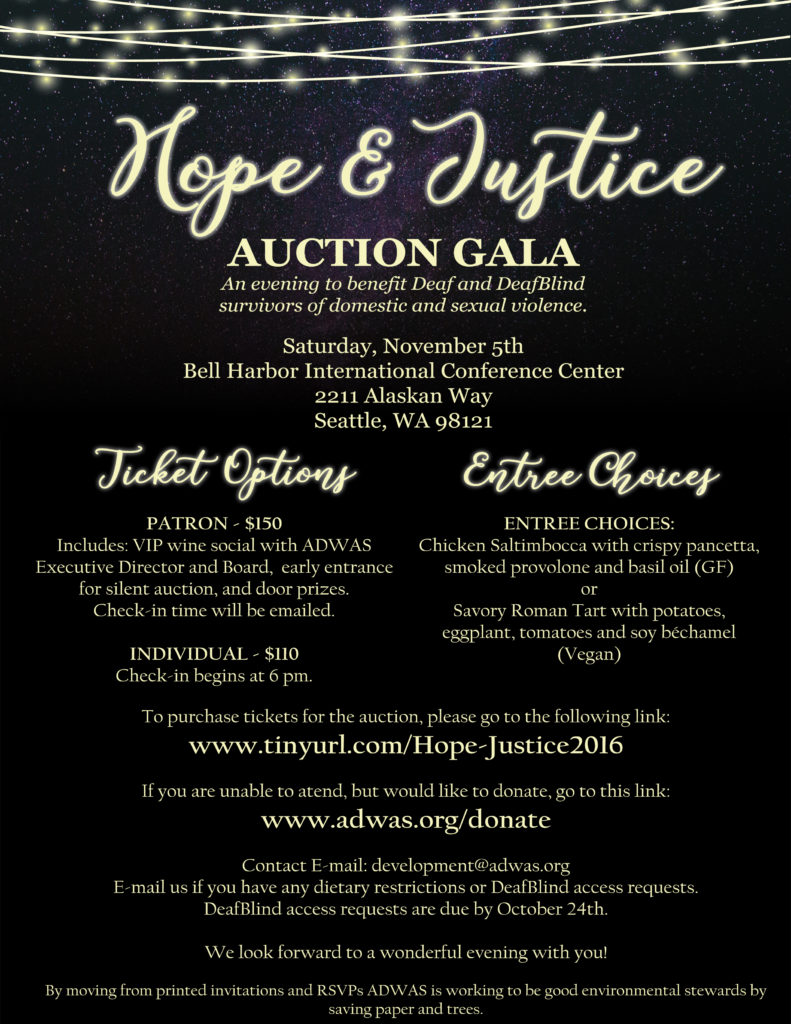 [IMAGE DESCRIPTION: an image with a purplish galaxy background behind yellow string lights. Below the string lights is the following text in glowing yellow text is "HOPE & JUSTICE". Below that in large and plain yellow text is "AUCTION GALA". Then below that in smaller text "An evening to benefit Deaf and DeafBlind survivors of domestic and sexual violence". Then below that is the
text: "Saturday, November 5th, Bell Harbor Conference Center, 2211 Alaskan Way, Seattle, WA 98121″]
PATRON- $150
Includes: VIP wine social with ADWAS Executive Director and Board, early entrance for silent auction, and door prizes. Check-in time will be emailed.
INDIVIDUAL – $110
Check-in begins at 6 pm.
ENTREE CHOICES
Chicken Saltimbocca with crispy pancetta, smoked provolone and basil oil (GF)
Savory Roman Tart with potatoes, eggplant, tomatoes and soy béchamel (Vegan)
To purchase tickets for the auction, please click on the following link:
www.tinyurl.com/Hope-Justice2016
If you are not able to attend, but would like to donate, please go to the following link: www.adwas.org/donate
Contact E-mail: development@adwas.org
E-mail us if you have any dietary restrictions or DeafBlind access requests.
DeafBlind access requests are due by October 24th.
We look forward to a wonderful evening with you!
To donate, go to this link: www.adwas.org/donate
By moving from printed invitations and RSVPs ADWAS is working to be good environmental stewards by saving paper and trees.