Anywhere To Anyone


The facilitator's guide assists when presenting the video Anywhere, to Anyone. It includes detailed outlines of domestic violence in the Deaf community, a preparation guide, common myths & facts about domestic violence, and guidance for discussion after the viewing.
The audience handbook is a helpful guidebook which includes information and education about domestic violence, safety planning, how to support a friend or family member, and community awareness. A necessary tool to use with the video Anywhere, to Anyone.
A videotape & 5 guidebooks – $10.00
Enough Is Enough
A followup on the videotape Anywhere, to Anyone on domestic violence in the Deaf Community. This video talks more in depth about safety planning and how to receive help when leaving an abusive relationship. It also shows how the Deaf Community responds to domestic violence. The entire video is in American Sign Language with English subtitles. Actors portraying Deaf people are Deaf in real life.
Videotape – $5
DVD – $20
Personal Safety

This is a very informative & visual book about personal safety at home, on a date, or at work. It also includes a list of safety tips for different situations. Ideal for all ages. Has information on how to talk with your child about sexual abuse. (21 pages)
A set of 10 pamphlets – $5.00
Justice For All

An informative guide for Deaf people that provides information to better understand domestic violence and the necessary tools to take action against it. (24 pages)
A set of 10 pamphlets – $5.00
I Can Be Safe

I Can Be Safe is a personal safety guidebook for Deaf children. It offers crucial information on how to keep children safe. (9 pages)
A set of 10 pamphlets – $3.00
Deaf Teen SA Prevention

This curriculum for Deaf, Deaf-Blind and Hard of Hearing teenagers fills a void for teenagers to prevent sexual assault. It assists in establishing stronger personal boundaries, increasing awareness, gaining skills in assessing potentially dangerous situations, and developing stronger refusal skills. (100 pages)
$15.00
Far From Love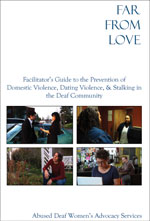 The objectives of this guide and DVD are to gain awareness about domestic violence in the Deaf community; understand how to support victims/survivors of domestic violence; shift accountability to the abuser instead of blaming the victims/survivors for violence; discuss solutions to ending violence in the Deaf community.
A DVD & guidebook – $25.00
Reclamation: Surviving Sexual Assault

This covers many important issues of sexual assault in the Deaf Community. There's also a companion guide book about sexual assault, types of sexual assaults, who the victims and offenders are, how to help a victim, & what you can do.
A DVD & 5 guidebooks – $25.00
A videotape & 5 guidebooks – $10.00